Windcorp Brass Bandwas established in Gothenburg in January 2005 by Andreas Kratz and Anders Hellman and is made up of professional musicians, music pedagogues and skilful amateurs with one common denominator – the wish to play brass band at a high musical level. The home base is Gothenburg on the Swedish west coast but the band members are located all over south and middle Sweden.
In spite of its relatively short history the band has made an impression on the international brass band scene. Being crowned Swedish Champions several times, they have appeared with highly esteemed conductors and artists like:
Prof. Garry Cutt, Prof. David King, Alexander Hansson, Phillip McCann, David Childs, James Morrison, James Fountain, Tom Davoren, Prof. Ingemar Roos, Richard Phillips, Glenn van Looy, Lucy Cutt, Richard Marshall, Owen Farr, Michael Becquet, Håkan Björkman, Chris Houlding, Mogens Andresen, Nils Landgren, Stefan Schulz, Øystein Baadsvik, Frode Amundsen, Jonas Nydesjö, Peter Johansson, Tomas Lind, Eva-Lotta Ohlsson & Philip Hannevik.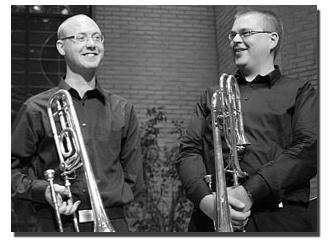 ---
Swedish National Champions – 2007, 2009, 2010, 2011, 2012, 2013, 2014 & 2015
Winners of Grenland International Brass Champions, Norway – 2008
European Championship, Oslo 2013 – 9th
European Championship, Montreux 2011 – 8th
---
Chairman Henrik Glänneskog
Treasurer Elias Persson
Secretary Jonathan Bengtsson
Board member Anders Hellman
Board member Rebecca Toth
Deputy board members Christine Rishaug Hellman, Marie Jennesjö